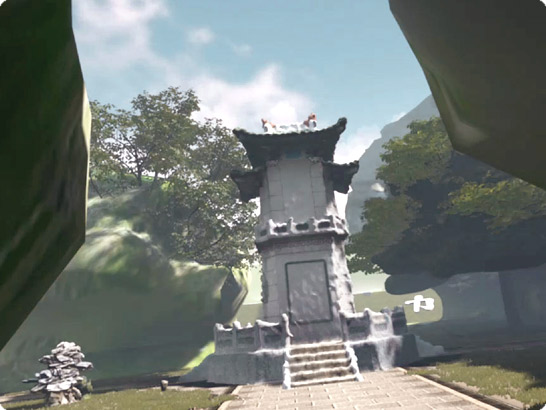 Gone Garden
VR Experience
Interactive room-scale VR experience on HTC Vive Pro | 2018
Directed by: Benjamin Seide, Ross Williams, Elke Reinhuber
Sound Design: Ross Williams
UE4 artists: Cho Wei Li Justin, Xu Peisen
A tropical garden in Singapore – not as it exists in a photorealistic representation but in our vision and in our memory: With this project, we embraced and even enhanced glitches which result from an approach to capture the garden for an immersive virtual reality experience with photogrammetry from eye level and bird's-eye view.
In the room-scale VR-experience, users are invited to walk around and explore the monuments, greenery but also jump into pavilions and caves and listen to the soundscape to stimulate their fantasy how it might feel to be in a garden in which history and future merge.
Exhibitions:
Beyond Future Design Festival at ZKM Karlsruhe, 2018
IM-Arch – Immersive Architecture Asia Singapore, 2019
The production of the work was kindly supported by NTU Singapore and the Ministry of Education Singapore.
Watch the video documentation on YouTube